I feel that some of the Guides written on this subject about how to spot if you have fake Ray-Bans were slightly outdated or just plain wrong, like they've never seen a real Ray-Ban before.



It's pretty simple to tell if you have the real deal, first look at what you get, you should be getting a Rayban box, Case, Info booklet and a Cloth. The Ray-Ban cloth is always in a protective sleeve, so if you end up getting Ray-Bans and the cloth does not have the sleeve, that would be questionable. Sometimes you might get the additional small booklet featuring all the Rayban Icons, but usually they come with the Wayfarers, so if you don't get it, it's normal.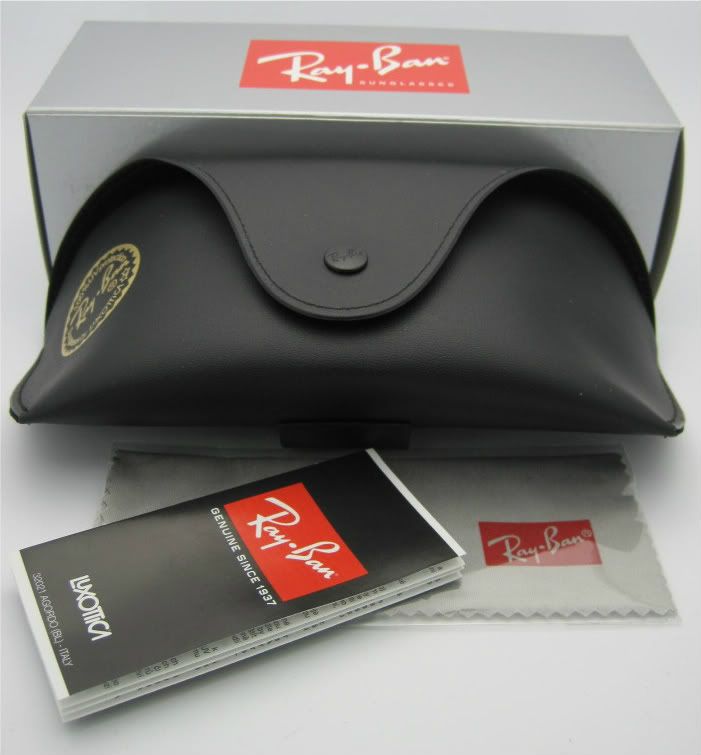 Also I read some other peoples guide and they were telling people it comes with an Authenticity Card similar to Prada's, it's like a credit card shaped card, but Ray-ban does not provide a Authenticity Card with their products, so don't expect it! Unless you have a Ray-ban rare print, certain models have Rare prints which is a unique color or pattern they do as a limited edition, these would come with an authenticity card to verify it is a Rare print, but everything else would not have this.
The case should have a round seal on it, sometimes, printed on or etched into the case, it should say "100% UV Protection - Rayban - Sunglasses By Luxottica" Also it is always on the left side of the case.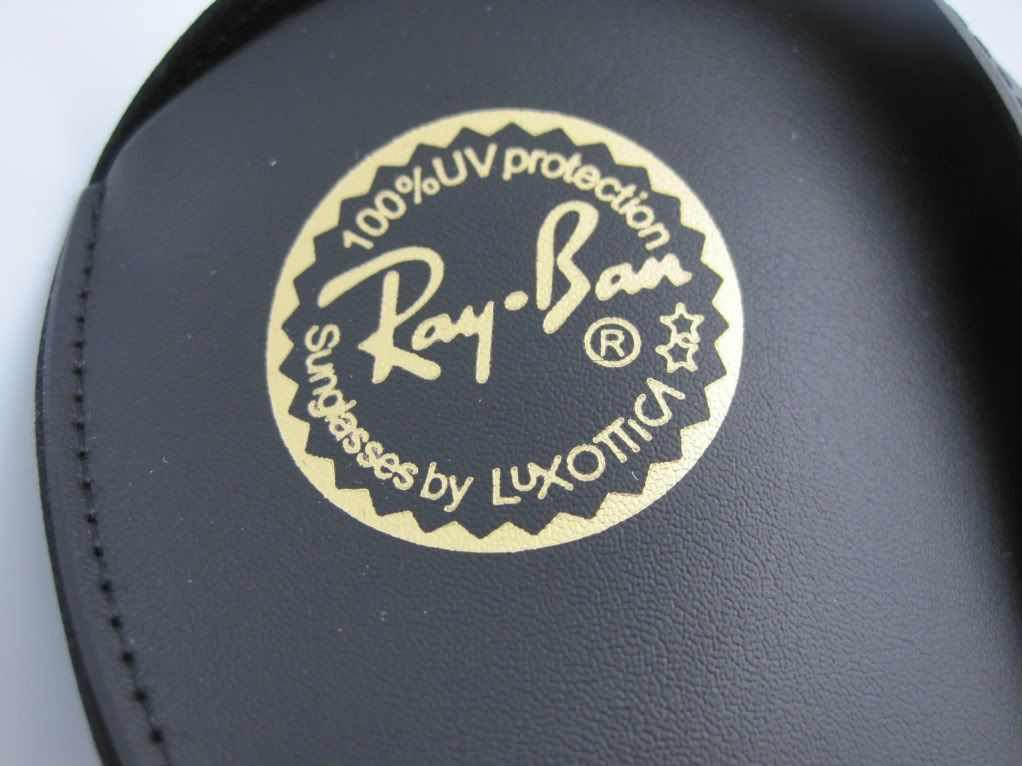 Next you can check where they are made, I know all of you think they are all made in Italy, but Luxottica is the Manufacturer for Rayban and they have facilities both in Italy and China, as of now, the RB 3293, RB 3387, RB 3267, RB 3386, RB 3379 and RB 3211 models are made both in China and Italy, so if you end up with one made in China, it's normal. I wouldn't even suggest calling up Rayban to ask them this as many representatives think that they are all made in Italy aswell as some of them haven't either been trained well or the fact is that some of them don't even see the products they are selling.
Next check the lenses, the left lens should have a RB engraved onto the lenses, kind of looks like a scratch in a way, it's located sometimes on the outside or sometimes on the inside of your lenses depending on the particular model that you have. You can do a simple trick to see it better, by simply putting the lenses upto a light. Majority of fake raybans do not have this and is one of the best ways of telling if you have the fake Ray-Ban. But not all have them, if they are a shield (a one piece lens) such as the RB 3211, none of them have RB etched onto the lens, only the ones that have 2 lenses.
Next check the model number on the inside of your temples, it should always start with RB, then a 4 number model, for example RB 2140, usually fakes don't even have the right model number on them.
Also check the nose pads, it'll have a RB signature inside the nose pad, many fakes don't even bother with this.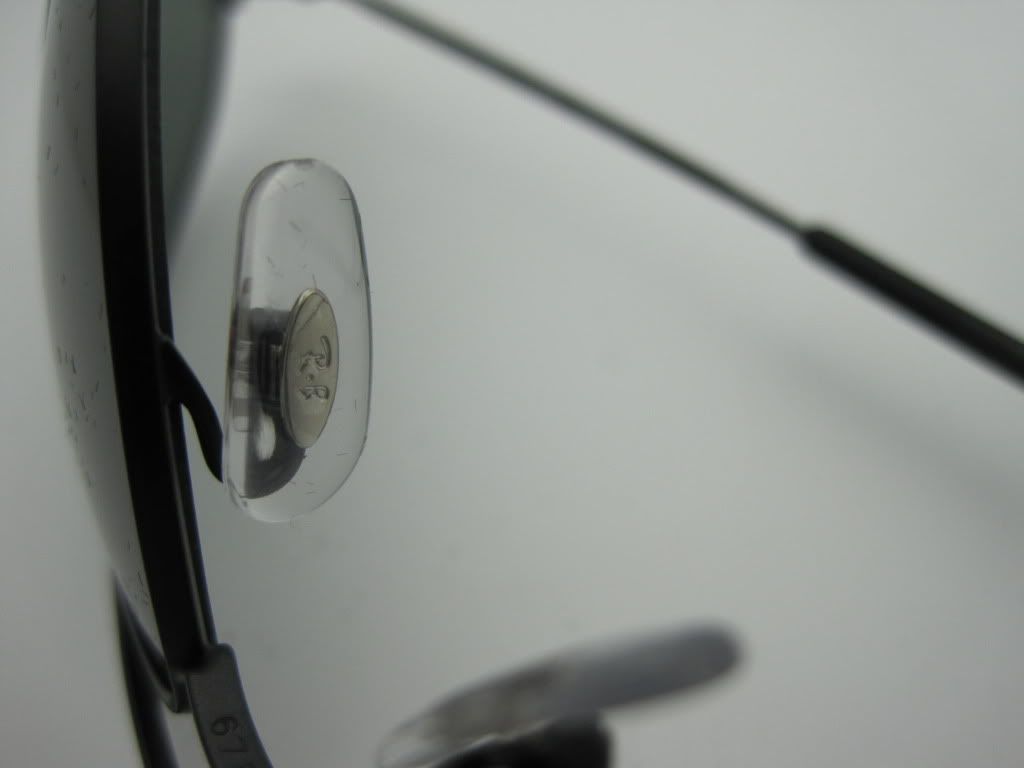 Next is if it's a deal that looks unbelievable, it is, lets say you see a RB 3293 Aviator pair you like, and it only costs $20, it's not the real deal, be logical, the frame retails for $129, so the wholesale cost would be about half that, so if it costs them $65, why would you sell it to lose money? Even on ebay, it's being sold for around the $90 mark.
Also if you have purchased a polarized version, it should say Rayban P on the lens. The P stands for polarized of course, you can check if they are polarized by simply putting your sunglasses in front of your computer monitor and turn them in an angle, at one point, the lenses will turn dark black if they are polarized, if the lenses are not polarized, nothing will happen.
The best thing to do is to go to a Rayban retailer and compare the one you bought to the one in the store, but they usually don't like you doing that. Also if you ask one of the people in the store, and ask for their opinion, you will not always get someone being honest, even though you may have a real Rayban, they might tell you it's fake to try and sell you the one in their store, so don't always trust their opinion.
Check out our list of sites selling fake Ray-Bans online
Click Here
So hopefully this guide was helpful to you. Comment below if you have any questions or comments about this guide.
Related Posts
Ray-ban Replacement Lenses
Top Sites for Cheap Discounted Raybans
How to Spot Fake Raybans
Rayban Replacement Temples